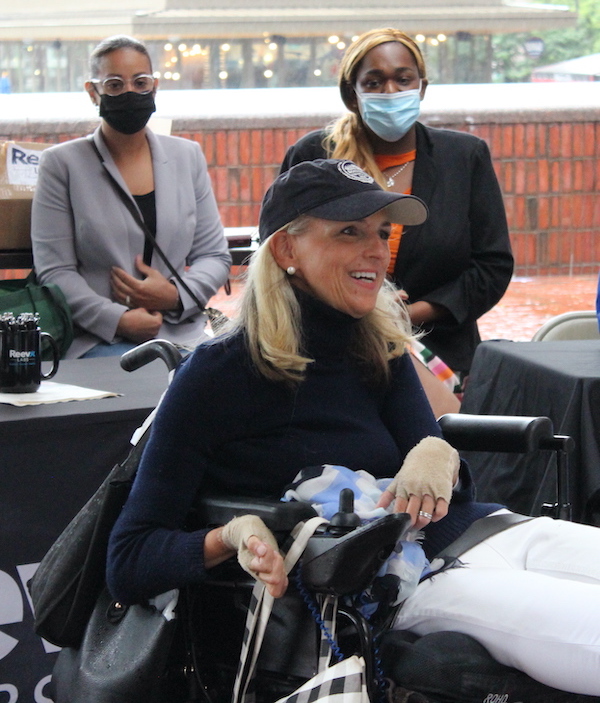 In her welcome to Boston Public Schools (BPS) students outside City Hall Thursday, Disabilities Commissioner Kristen McCosh encouraged them to "learn a lot, ask a lot of questions" of the banks and credit unions that had come to meet with them.
Right off the bat, one student raised her hand to lob a savvy question: What's the difference between a bank and a credit union anyway?
That kind of pointed curiosity brimmed all morning among the students – 18-24-year-olds with disabilities from the BPS STRIVE summer program – for whom this financial education was both a critical need and an exciting opportunity. They would soon need financial know-how for their transition to life after school. But they were also getting an exciting jumpstart: Each student received $100 to get their savings off the ground.
"As you get your first paychecks and start saving, it's important to pay yourself first," Charlene Bauer, chief development officer at Metro Credit Union, advised them.
The meet-and-greet was part of a six-week financial education program funded by Citibank and organized by the City of Boston Disabilities Commission and Bank On Boston, a City initiative that connects residents to safe and affordable banking services. In the program, students participated in a National Disability Institute financial wellness curriculum led by BPS teachers, while parents learned about housing options and ABLE accounts – tax-advantaged accounts for people with disabilities.
Thursday's event gave students a chance to meet representatives from City of Boston Credit Union, Dora (from USALLIANCE Financial), Metro Credit Union, and ReevxLabs (from Berkshire Bank). Some students went on site visits to the nearby credit unions while others stayed to speak with bank representatives.
"We're all here because we want to see you banked with the organization that's best for you," Bauer said.
Watch news coverage of the event from WCVB.