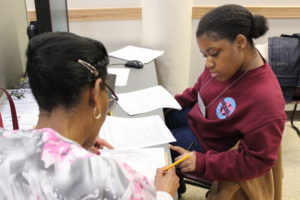 The primary goal of Language and Communications Access (LCA), a program of the city's Department of Neighborhood Services, is to make sure all city departments provide language and communications access to all Boston residents that utilize city-wide services. On June 13th, LCA featured the Boston Tax Help Coalition (BTHC), a program of the Mayor's Office of Financial Empowerment, in its summer spotlight series. BTHC was highlighted as a example of how beneficial it is to provide multilingual communication services for all. In 2005, BTHC launched its Ambassador program, which provides multi-lingual translation services to taxpayers that receive free tax preparation and financial advising. The Ambassadors do outreach among communities of immigrants and people with disabilities that qualify for these services. For the 2019 tax season, BTHC had nine ambassadors that were fluent in English and one of these languages eight languages: Arabic, American Sign Language (ASL), Cape Verdean Creole, Chinese, Haitian Creole, Portuguese, Spanish and Vietnamese. Leticia Paterlini, the Ambassador Specialist for BTHC, explains below how this work has greater impact on the individuals that BTHC serves:
"We do so much more than offer tax help in other languages or translate materials. We help people rebuild their lives."
Read the article here. The article was written by the Department of Neighborhood Services Languages and Communications Access program. Thank you to our colleagues from the City of Boston for the coverage.