The IRS and Massachusetts Department of Revenue extended the filing deadline to Monday, May 17th! As the tax season comes to a close, please make sure to check our tax site page to see when is the last day you can set up a tax prep appointment. Eligible taxpayers can complete their taxes online or schedule a drop-off-only appointment at one of our neighborhood tax sites. Click here for more information.
If you earned less income in 2020, you may qualify for a larger tax refund. Provide your tax preparer with a copy of your 2019 tax return.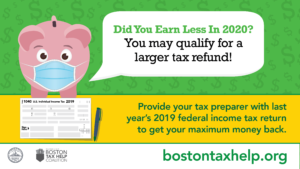 After May 17th, eligible taxpayers may continue to visit GetYourRefund.Org for online tax preparation services from a local BTHC tax site. Taxpayers can contact the Allston Brighton Child and Family Services Center for information on their drop-off tax preparation service via email (vita@cfmp.us) or phone (617.838.8089). Our virtual and drop-off-only services are planned to be offered at least through June 30th, 2021. Taxpayers should visit our website or call  617.635.4500 for the most up-to-date information.