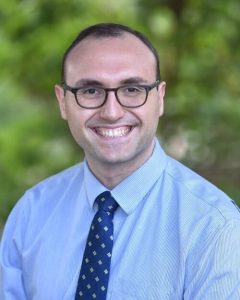 If it seems like Abraham Kirby-Galen likes doing your taxes, you would be wrong. Abraham LOVES doing your taxes. It is not just his knowledge about taxes, it is his zest for helping others complete what can be a scary task, and teaching them along the way.
Abraham comes to teaching naturally, and by choice. After 5 years of teaching math in Jordan, and Connecticut, Abraham found himself coming home to Medford, at the height of the Covid Pandemic, and fell into a routine of helping his parents navigate the stressful situations of insurance, and finances.
No stranger to numbers with degrees in Math and Arabic, Abraham thought he did not want to go into finance. But seeing the impact, after a chosen intensive course at Williams College, led him to volunteer with VITA (Volunteer Income Tax Assistance) in Western Massachusetts, Abraham speaks about "how much taxes impact and are impacted by financial life," and a call to help out in this way.
Upon his return to Medford, Abraham started to research his local VITA site and landed at Urban Edge. "It's a party!" "The highlight of my year, my week!" "A special crew of people." These are just some of the phrases that Abraham uses to describe his volunteering experience, through the Boston Tax Help Coalition, at Urban Edge. He speaks to the variety of roles that are needed at the sites across Boston, and the support each volunteer will find to be successful in their chosen role.
Commenting on what brings him back to volunteer, Abraham says "The joy!" He knows that for the clients the tax process can be scary, and that there is the fear of the unknown. And he thinks about, "how can we alleviate that?" He knows that the VITA volunteers, through The Boston Tax Help Coalition, have been thoroughly trained, and trained on returns so similar to what they see every day in the sites across the coalition. Confident in the work that he and the other volunteers are doing, and knowing the "return" for the volunteer is just as great as it is for the client, Abraham puts out the call for all to volunteer, "We can always use more people!"
Come join the joy! Sign up to receive all pertinent information about volunteering!
And as always you can reach out to our dedicated volunteer email BTHCVolunteers@Boston.Gov.