On July 20, 2019, the Boston Tax Help Coalition (BTHC) hosted a Financial Empowerment Summit for the Deaf Community, which grew out of its long-term commitment to providing free tax preparation to the deaf and hard of hearing, and was held at Urban Edge. Using funding from The Boston Foundation and partnering with Deaf, Inc. and the City of Boston's Disability Commission, the BTHC staff, including Mimi Turchinetz, Assistant Deputy Director, Office of Financial Empowerment, and Leticia Paterlini, Senior Ambassador Program Specialist, worked on a curriculum to address two key topics of interest to this constituency, Budgeting and Retirement Planning.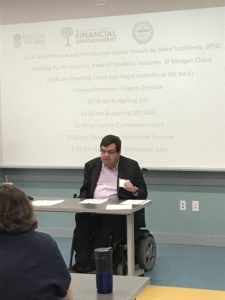 The day began with breakfast, followed by a welcome from Mimi Turchinetz who extended greetings from Mayor Martin J. Walsh. Jim Sinocchi, Head of Disability Inclusion for J.P. Morgan Chase, provided a keynote address in which he described not only his own experience as a person with disability but talked specifically about the changes his bank has made to improve access to all. Robert Christian, a local CPA, a former member of Deaf, Inc.'s board, delivered the two seminars, which were both signed and accompanied by CART service. The PowerPoint was prepared by Robert in conjunction with Deaf, Inc. and he took questions during and after his presentation. Lunch took place between the two workshops, personally delivered by Bing Broderick of Haley House (we are excited to hear it will reopen in the fall). BTHC staff delivered the Financial Check-Up, a light touch, one-on-one credit advising session, to those interested, which included several Deaf, Inc. staff members.
Attendees included 15 members of the Deaf community; 5 staff members from Deaf, Inc. (and two very well behaved service animals); 6 ASL interpreters; 4 Deaf Interpreters; a CART provider; Jessica Doonan, Chief of Staff for the Mayor's Commission for Persons with Disabilities in Boston; Jim Sinocchi; as well as staff from the BTHC and OFE. In addition, three financial institutions, J. P. Morgan Chase, Bank of America, and the City of Boston Credit Union staffed tables so they could provide product information and answer questions on banking with help from the various interpreters. An impromptu focus group on banking access took place. The event was extremely well received and we are so pleased by the positive feedback from all who attended. We appreciate all who joined us on this extremely hot day, and thank our host, Urban Edge!