As we enter April and the final weeks of tax season, we want to recognize our dedicated volunteers for all the generous work they do for low-income Boston residents: everything from tax preparation and financial advising, to greeting people at tax sites or providing bilingual interpretation services. In addition to our appreciation, some employers also want to recognize and reward this spirit of giving.
Volunteer grant programs, also known as "Dollars for Doers" or "Double the Donation" programs, are charitable gifts that some companies provide to eligible nonprofit organizations based on the number of hours that their employees volunteer. You have already generously given your time to help low-income Bostonians, and now your employer may recognize your activities with an additional contribution to the Boston Tax Help Coalition.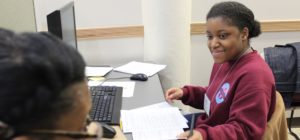 Is your employer one of the many companies, large or small, offering volunteer grants or matching gifts? Bank of America, Best Buy, Microsoft, State Street, Starbucks and Verizon are a few who do. These companies have made a commitment to support the organizations that you are passionate about, like Boston Tax Help Coalition.  Please ask at work about volunteer grants to see if you can make your time go even further.
How do volunteer grants work?  Companies have different policies about the minimum number of volunteer hours that qualify and what dollar amounts they will donate. Your employer will likely ask you to keep track of the time you volunteer and then submit your request electronically or on a paper form. Boston Tax Help Coalition can verify that you are a volunteer with us and that our organization is eligible to receive donations. Your company will then send a check to the Boston Tax Help Coalition in recognition of your valued time volunteering.
To see if your company rewards volunteer time with a donation or will match your contributions, check your employee handbook, website, or ask your Human Resources department. You can also reach out to Meghan Phillips, Development Coordinator at Boston Tax Help Coalition for assistance at meghan.phillips@boston.gov or (617) 918-5227.
Thank you for all that you do!