Mayor Martin J. Walsh's Boston Tax Help Coalition and other community partners yesterday encouraged Boston residents to take advantage of free tax preparation services available at more than 30 sites across the Boston area. The services help residents who earn $56,000 or less per year claim the full refunds they are due.
In particular, the Coalition's IRS-certified tax preparers aim to help eligible workers claim the Earned Income Tax Credit (EITC), which averaged $2,400 per recipient last year. An estimated one in five EITC-eligible workers fail to claim this valuable credit. The Coalition also connects taxpayers to other services that can improve their financial health, such as safe and reliable banking options, credit-building workshops, and one-on-one financial coaching.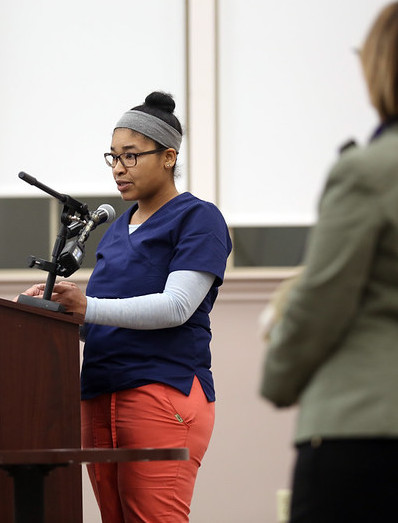 Betty Daudin is one of many taxpayers who came to a Coalition tax preparation site to get their taxes done, but left with so much more. A mother of two living in Mattapan, she had recently emerged from an expensive divorce and was facing bills for one daughter's private schooling and college tuition for the other.
Daudin started meeting with a financial coach at the Roxbury Center for Financial Empowerment who helped her create a budget and cancel a costly debt consolidation contract.
"I am feeling less stress and in control – my credit score has now increased almost 60 points," Daudin told the audience at the tax launch event at Action for Boston Community Development (ABCD) in Roxbury.
She added: "The tax preparation services are tremendous, they make sure you can claim credits you quality for, and it's free!"
Last year, the Coalition served nearly 13,000 taxpayers and returned $24 million in refunds and credits directly to taxpayers. 
Read the press release to learn more.